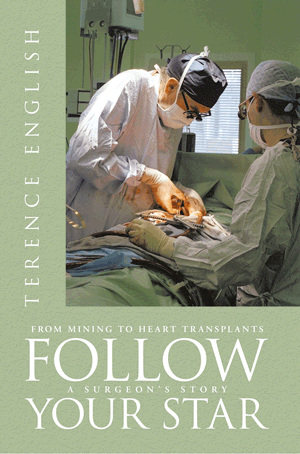 One reason for writing "FOLLOW YOUR STAR" was because by doing just that I believe I have had a more interesting life than might otherwise have been the case.
The story starts with my early years in South Africa where I trained as a mining engineer before deciding to become a doctor. I then spent four summers in Canada engaged in mining exploration before and during my years as a medical student at Guy's Hospital. After qualification, I specialised in cardiac surgery and in 1979 performed Britain's first successful heart transplant at Papworth Hospital near Cambridge, following which the hospital became internationally recognised for heart and lung transplantation.
From 1989 I served three years as President of the Royal College of Surgeons of England and then in 1993 a new Star appeared on the horizon when I was unexpectedly elected Master of St Catharine's College, Cambridge. This brought a new dimension of interest to my life.
Altogether, I consider myself most fortunate to have had such an interesting professional life, as well as enjoying many other diversions along the way.
"FOLLOW YOUR STAR – From Mining to Medicine – A Surgeon's Story" is published by AuthorHouse in hard and soft cover format.
It is available through Amazon or, more cheaply, through Authorhouse.co.uk where the Web Price is £8.10 and £12.70 for soft and hard cover respectively.